I'm linking up with Jenny for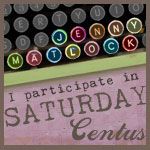 Come on over and enjoy the fun!

The prompt is in blue.

The Baker.

It wasn't his birthday. Not his anniversary, as he wasn't married. Or involved with anyone. It wasn't any special day. Just a ' I want candles on a cake!' day. So, he mixed, he poured, and he baked. He frosted the cake and stuck 4 candles in it. Four being his lucky number. He lit the candles. He drew in a deep breath... Closed his eyes.... and....

He never dreamed when he blew out the candles on his cake

that it would start a fire, he would meet the most gorgeous lady firefighter in the world. And fall in love instantly.