Linking up to...................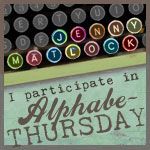 I didn't find Jenny Matlock's Alphabe-Thursday until she was on the letter W, so i only got to do W,X,Y, and Z.
Now, today is the end of Alphabe-Thursday, and we are to use any letter we want, or repost and old one.
Hmmmm.....what to do what to do.
A could be for, uh, ANSWER, but i don't have one.
How about L, for i'm LOST!
But then..... but then as i was sitting looking out the window, watching the dawn, the first beam of sun popped through the leaves of the sweet gum tree. And it shook me to my core. It looked like a jewel that had been hiding in the tree, waiting for that one certain, special beam of light to hit it. It blasted color and sparkle through the leaves.
Then it moved on and hit the little orange flowers sitting on the deck, changing them to fireworks of the morning. As it crawled along the deck it lit first one marvel, then another.
A young walnut that fell too early off the black walnut tree.
A spider web stretching from the pineapple lily to the twisty sunflower my granddaughter has been trying to grow.
A lady bug resting on a stem of my one lonely tomato plant. She awoke with sun in her eyes, and began to stir, looking for breakfast.
As the light moved around the corner, it slid into the cup of one of the calla lillies where a small green frog had taken up residence. It lit him up like a piece of fine jade.
Then it hit me. Right in the face. Ah, what a glorious morning it is.
So, how about G is for Great Good Morning!