And once again i am linking up with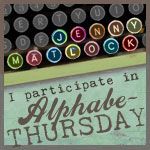 Never, i mean never, forget your friends that you stashed away in an open
zippered
pocket somewhere. They get a little upset and tend to escape and get into trouble.
" Reach! Grab my hand!"
" Come on! Stretch! We've got to get out of these zippers

before
she comes back!"
" Thats it! Just a bit further!"
" Okay, i've about got'cha now...a little bit more...
... there we go. Lets get gone!"
And that, dear friends, was the great ZIPPER

escape.
Now you all know i really am nuts around the bend a bit crazy in the head.
Giggle.