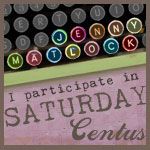 WEEK 17 ASSIGNMENT

Take any other SC stories (yours or someone elses) and using ANOTHER 100 WORDS...tell us the "rest of the story".

Please copy and paste the first story so we can read both entries easily.

So...

A 100 word story that tells the rest of any previous Saturday Centus!
I chose 'The Decision'.
The decision was made. No turning back.
AnnieLee, sitting next to me, was rambling on about the past.
"Do you remember the promises's.....?" "Blah blah blah was all i heard. I was thinking,

driving six hours is a long time on the road. Six hours spent singing car-aoke and taking in the picturesque scenery, but mostly reminiscing about the good old times.
But those days were long gone and my mind was in a different place now. Or was it? My pulse quickened as i passed the road sign which read "Medford 27 miles".
After 14 years of hearing the same words, non-stop, i had come to the end of my rope. Just a few more miles and i would be rid of her. Just a bit past Medford and peace will be mine. And her's.
It is time to set her free, this ghost of love long lost. Time to put her soul to rest.
It is time to let her go.
PART TWO
Time to let go of this giver of promises that never came to reality.
This betrayer of dreams and hopes. The golden haired liar, trickster, who has run my life for so long.
This has to be 'goodbye', or my life is lost.
I looked over at her. The ghost of myself who would soon be put to rest in the house of he who shaped her.
That AnnieLee who was so tired of the lies and the cover-ups.
It was time for forgiveness and hope.
Time to live.