Here it is again, Saturday Centus! Fun stories, lots of laughs and maybe a tear or two.
Join us!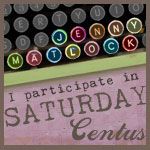 And of course, the prompt is in
blue.
Have you ever noticed the little words on the rear-view mirror on your car? The one that says...
'

Objects in the rear view mirror are closer than they appear.

'?
Trust me, it's true. Painfully so.
Fun day at the lake.
Brother sitting in the car, listening to music on the radio.
Little sister gonna sneak up and splash water on him.
Creep creep she goes, all hunched over so he won't see her.
Tummy full of tickles and silly butterflies.
There she is, right under his window...
getting all shivery, ready to spring,
and UP she pops!
Face to face with the rear view mirror.
Just before it knocks her out.
Wham!